Vermeer Exhibition Amsterdam 2023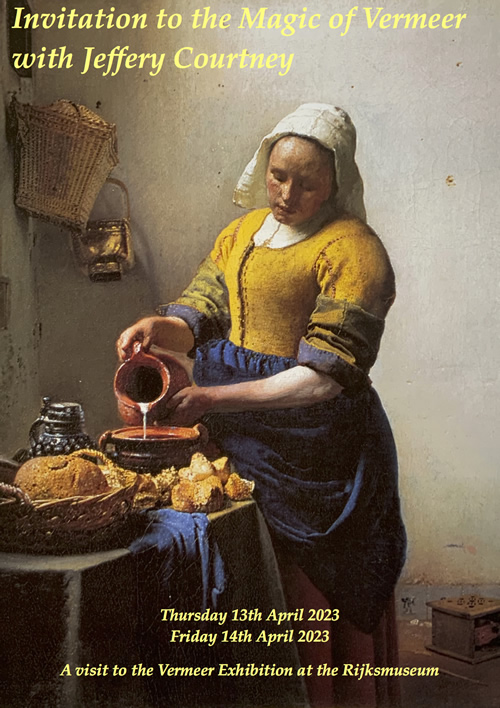 A stunning exhibition of Vermeer's paintings will be on show at the Rijksmuseum in Amsterdam. There will be 28 out of the 35 known paintings. This is a once in a generation opportunity to see so many Vermeers gathered in one place and may not happen again for a long time. A technical genius unparalleled by his contemporaries Vermeer's paintings have something special about them, a subtle magic ingredient that somehow connects you to another world beyond the physical painting. Something extra, deeper that is very attractive, yet hidden.
VISITS
I am offering visits to this not to be missed exhibition with groups of no more than six people to help you get the most out of your visit. Along with knowledge of techniques used by Vermeer, and a certain amount of history, the aim of these visits is to help people really 'see' the paintings, to discover how to connect with the experience of looking that takes you into the deeper more profound level of his work; also how to avoid getting exhausted with sensory overload. Often the experience of visiting galleries or exhibitions can be superficial and people try to do too much and so miss the subtle riches and beauty, hopefully this directed visit will help you discover the hidden Vermeer.
ARRANGEMENTS
The Rijksmuseum is not allowing guided tours. So to respect this and yet offer a meaningful directed visit the arrangements are as follows:
1) Briefing - meet in nearby café, or the museum café (tba) for coffee and a briefing session. Some notes will be provided that may be helpful and take you through the techniques of looking and connecting mentioned above. Handing out of tickets (these not only get you into the Exhibition where you can stay as long as you like, but they also get you into the rest of the Rijksmuseum's collection which is open until 5pm daily, applies to morning session only).
2) Visiting the exhibition (approx 2 hours) - People can go round the exhibition either singly or in 2s or 3s. I will circulate throughout our visit joining people at different times to discuss paintings, ask and answer questions and point out various things about the pictures. I will also make sure to steer people to some of the more important pieces and go into some depth on them.
3) Debriefing - meet up in the museum café for lunch after the morning visit; or nearby restaurant for supper after the afternoon visit, for debriefing - that is chat about our experience of the exhibition, drink some beer or wine, and generally have a very enjoyable time.
DATES*
Thursday 13th April 2023
Friday 14th April 2023
* Please note: 'Girl with the Pearl Earring' will no longer be in the exhibition by these dates. It will however be on view at The Mauritius House in The Hague.
TIMINGS
There will two sessions on each day
Morning - meet 10.00am in café - entry to exhibition 11.15am - Lunch 1.30pm
Afternoon - meet 4.00pm in café - entry to exhibition 5.00pm - Supper 7.30pm
COSTS & PAYMENT
£125.00 (GBP)
Morning session includes entry ticket to exhibition and free entry to rest of the Rijksmuseum that day which closes at 5pm
Afternoon session includes entry ticket to exhibition only (as the Rijksmuseum closes 5pm daily). If you wish to see the rest of the museum you would need to buy a ticket and visit before the 4pm briefing in the cafe
Note: price does not cover café or meal costs.
Your place is only secured on receipt of payment. Tickets for the exhibition are going fast, in order to be sure to secure tickets for the same time slot payment would need to be made straight away and no later than 1st February 2023. Tickets are non-refundable but are transferable if you are unable to attend. Please contact me before making payment to confirm availability by using the contact form on this website.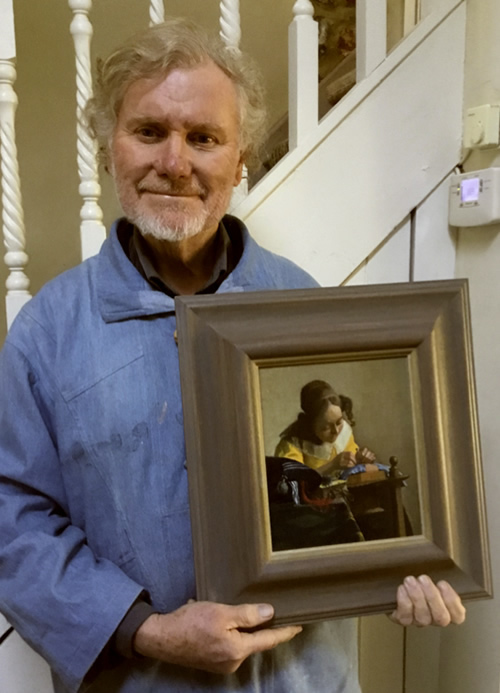 Jeffery with his copy of The Lacemaker.
Jeffery was trained at the Royal Academy Schools in London. He is a professional painter, lecturer and art teacher. He has made an extensive study of the methods and techniques of the Old Masters and has fulfilled many commissions for copies, including Vermeer, Botticelli, Leonardo and Rembrandt. He lives in Oxfordshire with his wife Belinda and four golden retrievers.
Art Classes
Monday Online Painting Class
We meet on Monday afternoons from 2pm to 4.30pm mostly online each term, but on two to four occasions, weather permitting, we meet en pleine air to paint the Oxfordshire countryside. Please contact me for dates and availability of places.
Classes with ArtSmart
Thursday morning Oil Painting Class online
Friday Morning Acrylics Class in Thame
Please contact www.artsmartuk.com or 01494 670 372 for bookings.
Private Tuition
Jeffery is also available for Private Tuition on a one to one basis, or small group, please contact for further details.
Gallery Courses
Paintings Through an Artist's Eye at the Ashmolean Museum - click here
Please contact us for details giving the full synopsis of the course or if you would like to book a course for a group.
Paintings Through an Artist's Eye at the National Gallery - click here
Please contact us for details giving the full synopsis of the course or if you would like to book a course for a group.
Lectures
Jeffery is available to give lectures, here are some topics available:
- Leonardo's Last Supper
- Botticelli's Primavera
- The Hidden Harmony in Piero della Francesca's Baptism of Christ
- What Makes Great Art Great?
Copyright ©2020 Jeffery Courtney